Every girl love to be pampered. Whether you're a girly girl or a not so girly girl, you'll find ways to pamper yourself. For a girly but yet not so girly girl like myself, I decided to use my time wisely for it.
So happen last Friday was a Public Holiday, hence decided to have a girly time with my bestie, CL.
It's been weeks since we met up.
I'm September baby and she's October baby, and we never had the chance the celebrate our birthdays together like we used to every year.
Decided to head to Bangsar Village, as shopping complexes were out of bound, the traffic is crazy!
After lunch, we decided to go for pampering session, was looking for a nice place for manicure and pedicure.
We stumbled upon two different nail parlour that really caught our eyes and its by the famous Soong Ai Ling.
First was
Chic Nail Spa by Soong Ai Ling
. However the place was really packed.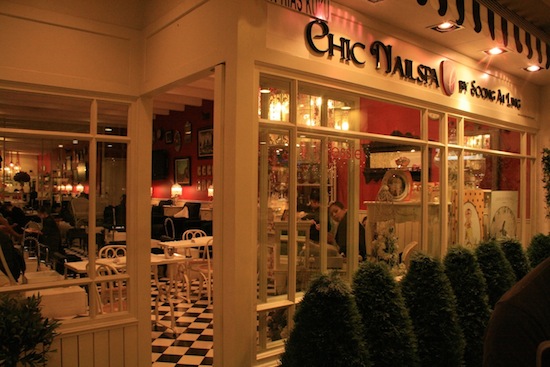 pic taken from www.travelfish.org
Then we hop to the second shop,
Boudoir by Soong Ai Ling.
It was way classier and slightly more expensive compared to the first one. As they were having some promotion, we decided to go for the normal manicure and pedicure.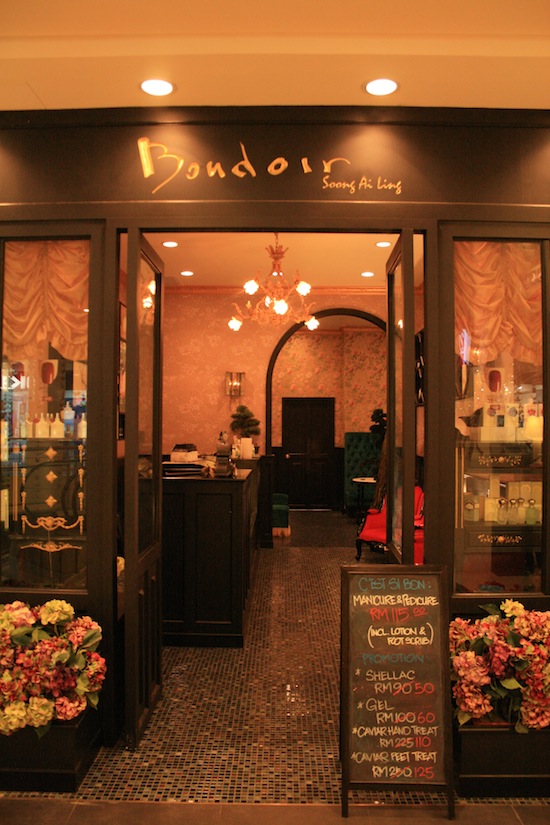 pic taken from www.travelfish.org
The interior is lovely and looks really classy. They took it to a whole different level. Shit I don't know if I can downgrade now! To be honest, the manicure and pedicure wasn't really that expensive, it cost us RM118/pax for it. Might be a little more expensive than usual, but it's worth the experience. Read on and I'll show you.
pic taken from google.com
They actually serve you champagne and macaroons. You can choose to order or take their 'Spa Package'
Spa Package includes Manicure and Pedicure cost around RM180.
Paying for a well treated pampering session is worth. Just look at the interior of the shop. Just so you know, I'm not getting paid for this. I have to pay for my own manicure and pedicure. I just find it is good experience to blog about.
pic taken from google.com
Not only you get comfortable seats, they actually place a small pillow as a back rest, and a hot bean bag behind your neck for comfort. Each customer will be attended by 2 of their staff. Thus you need not worry about spending 3 hours just on mani/pedi, saves up a lot of time, unless of cuz you're not in a rush. I personally hate spending more than 2 hours doing my nails, I'll get bored and it's definitely time consuming for me.
Before the pampering session starts, manage to snap a few pictures. Camera was being a bitch at that moment "Memory Card Locked" I tried restarting it many times, phailed! So sorry for the lack of pictures, and blur pictures, iphone 4 does not have high megapixels.
This mat salleh here is doing Nail Spa. So enjoy!
CL babe who looks like a princess here
My turn!
Look how professional they dress. And love their mini torch to ensure they scrap every single dead skin out of you. Just Kidding!
While waiting for my nails to dry. It was just a one hour session. Super fast!
Decided to go with a touch of peach color for my finger nails, due to work purposes. My profession doesn't encourage, nails painting. But a tinge of colour won't bite, heeee *winks* Too bad I had to cut all my nails short, this I have to, no exception. Wouldn't want to injured my patients and for hygiene purposes.
As for my toe nails, decided to go for something more sharp. Reddish Pink it is. Took me and my manicurist a long time to choose.
Pretty? I'm lovin' it!
Lastly a picture of the two of us, ignore the slippers we don't have a choice.
Outfit of the day:
Pink chiffon top: from BKK
Black High-waisted skirt: from Topshop
Pearl necklace: from BKK
Bag: LV
You can always call up for an appointment
Boudoir located at Bangsar Village 2
Tel no: 03-2282 3128